Nissan NV200 Van Dimensions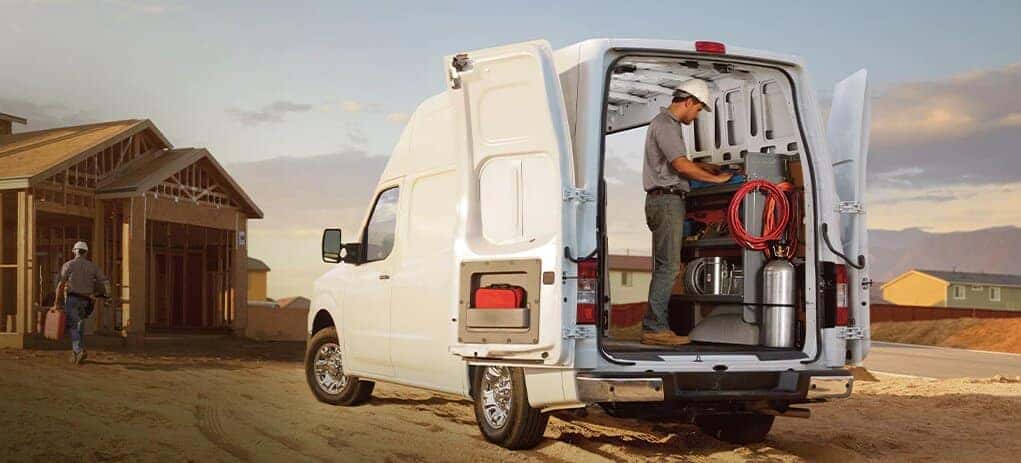 Whether you need a van for flexible cargo carrying options or with versatile passenger capacity, the range of Nissan NV vans has the ideal solution for you. When you're buying a Nissan van, dimensions are important and dependent on your requirements, and at Nissan of Streetsboro, Ohio, we can help you make the right choice. Let's take a look at and compare the Nissan NV lineup.

Nissan NV200 Compact Cargo
The 2021 Nissan NV200 Compact Cargo is a small, versatile, and economical two-seat van that is available in S and SV trim levels. It's powered by a fuel-efficient 2.0-liter four-cylinder engine paired with a continuously variable transmission to give you up to 24 mpg around town and 26 mpg for highway driving.*
At 186.3 inches long and 68.1 inches wide, the NV200's compact size, along with agile handling and a turning circle of just 36.7 feet, make it simple to negotiate the city streets and get into tight parking spots. A high driving position gives you a commanding view of the road. The practical cab features an under-seat storage drawer to keep items out of sight but close at hand. The center console has laptop and hanging file storage, while the fold-flat passenger seat doubles as a work desk.
This Nissan van interior has a cargo volume of 122.7 cubic feet, with a length of 82.8 inches, a width of 54.8 inches, and a height of 53 inches. The S trim gives you a maximum payload of 1,480 pounds, while the SV can carry up to 1,450 pounds. The front passenger seatback folds flat, enabling you to carry items up to 116.3 inches in length.



To easily access the cargo area, the NV200 has multiple loading options. The 60/40-split swing-open rear doors can be locked in the 90-degree or 180-degree position. Additionally, the two sliding side doors offer a low step-in height of 19.2 inches. With its flat cargo floor, 48 inches between the wheel arches, and a lift over height of just 21.2 inches, loading through the rear doors with a forklift is a breeze.
For securing your cargo, the NV200 offers six standard wall-mounted D-rings, and the SV has an additional six floor-mounted tie-downs that fold flush with the floor when not in use. Three ceiling-mounted lights help to illuminate your cargo. When you want more flexible options, the NV200 also features 20 integrated mounting points for custom shelving.
The Back Door Glass package includes rear door windows with privacy glass, a rear window defroster, and a rearview mirror. The Sliding Door Glass package adds to the above with passenger-side sliding door glass and wire mesh guards for side and rear cargo door windows.
Nissan NV Cargo Van Dimensions
When you need a full-size van, the 2021 Nissan NV cargo offers a variety of configurations that enable you to tailor it to suit your business needs. It's offered as the NV1500 or NV2500 HD model in S and SV trim levels, or the NV3500 HD in SV and SL trims. Each model adds increasing hauling and towing capability. You can also choose from a standard roof or a high-top roof.
Under the hood of the 1500 is a 4.0-liter V-6 engine mated to a five-speed automatic transmission driving the rear wheels. The 2500 HD comes standard with the V-6, or you can opt for a 5.6-liter V-8 paired with a seven-speed automatic transmission. The V-8 is standard in the 3500 HD. With the V-6, the NV offers a maximum payload of 3,270 pounds and a towing capacity of up to 6,900 pounds, while the V-8 gives you a payload of up to 3,720 pounds and a maximum towing capacity of 9,400 pounds.
The practical cab seats two passengers and offers similar office-style convenience as the NV200. On the outside, the NV is 240.6 inches long and 99.5 inches wide, including the mirrors. With the standard roof, you have a height of 83.9 inches and a cargo volume of 234.1 cubic feet. The high roof gives you plenty of standing room with 105 inches of height and a cargo capacity of 323.1 cubic feet.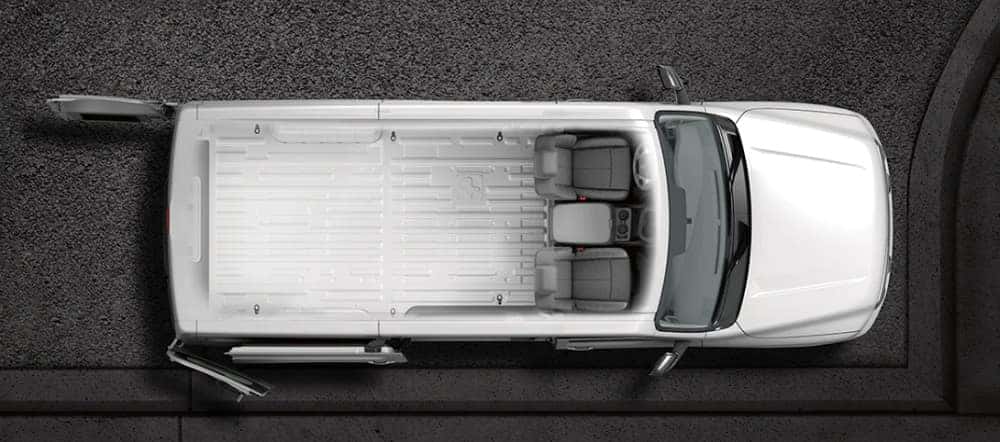 A flat loading floor and 243-degree opening rear doors make for forklift-friendly loading. The cargo area has space for two 40-inch by 48-inch pallets, while the 54 inches between the wheel wells allows you to fit 4-foot by 5-foot plywood sheets. There's even enough room to fit in 10-foot-long pipes using the space under the center console. A 12-volt power outlet is standard, while the 2500 SV and above offer an additional 12-volt outlet and two 120-volt outlets to give you power where and when you need it.
For adapting the van to your needs, the NV Cargo comes standard with six flat-folding cargo tie-downs, 36 integrated mounting points for shelving, 11 mounting points for a bulkhead partition, and 10 ceiling mounting points for installing an interior ladder rack. You also get integrated roof-mounting points for the easy installation of roof racks.
Nissan NV Passenger Van Dimensions
If you carry more passengers than cargo, the stylish 2021 Nissan NV Passenger is the ideal choice. Available in S, SV, and SL trim levels, it's a similar size to the standard roof NV Cargo and offers the same engine and drivetrain options.
The NV Passenger seats up to 12 people and, with six independently removable rear seats, you have no fewer than 324 seating configurations to maximize your passenger and cargo capacity. With all the rear seats removed, you have up to 218.9 cubic feet of cargo space, and you can carry items up to 10 feet long.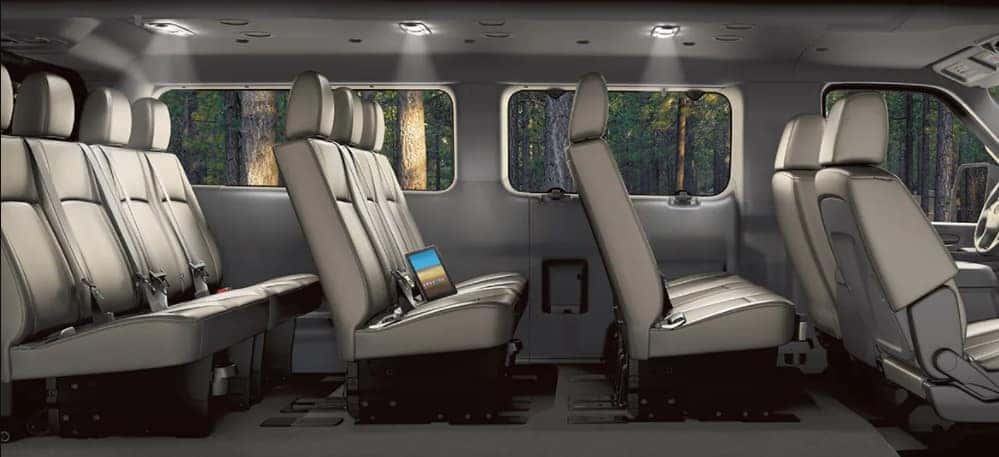 Passenger comfort and safety are assured with individually designed seats with integrated seat belts and the option of supple leather upholstery. Rear passengers have individual overhead map lights, under-seat slide-out cup holders, and in the SV and up, three 12-volt and two 120-volt power outlets.
Schedule A Test Drive in a Nissan Commercial Van to Compare
To take a closer look at the lineup of Nissan NV cargo and passenger vans, visit us at Nissan of Streetsboro in our friendly and conveniently located dealership on Classic Drive. You'll see why our Nissan vans are perfect for your needs. To discuss your specific business needs, your financing options, and to schedule a test drive, contact our team at Nissan of Streetsboro.
All images sourced from Nissan USA