Best Places To Go Camping near Cleveland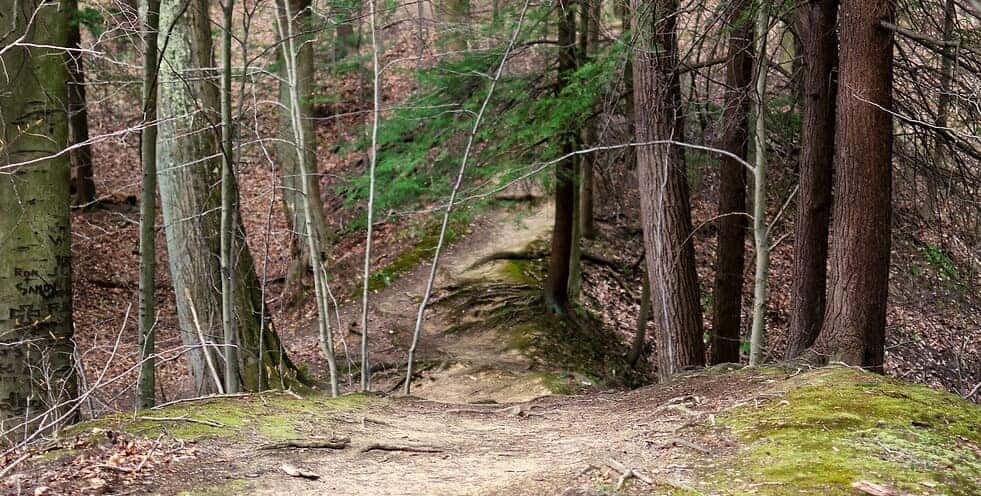 Camping is a great way to experience Ohio's parks. Whether you prefer primitive camping or camping in your RV, there many family-friendly campgrounds to enjoy in the Cleveland area. We've asked our local staff and their families for their recommendations on the best places to go camping outside of Cleveland and their tips for how to have the best experience. Here are some of our favorite local campgrounds and tips for making your camping trip a success.
Geneva State Park
Located on the shore of Lake Erie, Geneva State Park has almost 700 acres to explore. The campground has 19 full hook-up sites and 74 electric sites. In addition to campsites, Geneva State Park also offers several cedar cabins for rental. A shower house, flush toilets, and coin-operated laundry are on site. The seasonal camp store stocks ice, firewood, and other camping necessities.
The campground has basketball courts, volleyball courts, and a playground. Campers also have easy access to boating, fishing, biking, and hiking. You can find Geneva State Park on Padanarum Road in Geneva.
Findley State Park
Findley has 15 full-service, 91 electric, and 151 primitive campsites. Three cabins are also available. If you are traveling with a large group, check out the group campsites that can accommodate 40 campers. Pets are allowed in the individual campsites, but not in the cabins or group campsites.
Findley State Park campground provides showers, flush toilets, and laundry facilities. The campground also has a camp store for any forgotten necessities. Campground amenities include a playground, sand volleyball pit, basketball court, horseshoe pits, and a gaga ball pit. You can find Findley State Park on State Route 58 in Wellington.
West Branch State Park
West Branch State Park has over 5,000 land acres and 3,000 water acres to explore. The campground has over 200 campsites, including electric, primitive, and full hook-up sites. Several sites are situated lakeside. Three group camping sites are also available. Each group site offers six picnic tables, a charcoal grill, two fire rings, and several lantern hooks. West Branch State Park also has a bridle camping site, perfect for campers with horses. A camp store sells firewood and general camping supplies.
While camping at West Branch State Park, you can enjoy activities such as hunting, fishing, hiking, and boating. West Branch also has a large beach area. West Branch State Park is on Esworthy Road in Ravenna.
Punderson State Park
Punderson State Park campground has over 150 campsites available, including 15 primitive, 137 electric, and 20 full hook-up campsites. Some of the campsites are on a hillside, providing a breathtaking view of the park below. Several group campsites throughout the campground can accommodate 25 people and include electric service, picnic tables, and fire rings. The campground has a shower house and flush toilets. You can rent kayaks at the camp office.
While camping at Punderson State Park, you can enjoy canoeing, boating, fishing, or paddleboarding on Punderson Lake or nearby Stump lake. Punderson State Park also has several hiking trails, a nature center, and a playground. Punderson State Park is on Kinsman Road in Newbury.
Tips for Camping Near Cleveland and Northeast Ohio
Camping is a great way to enjoy the outdoors and relax. Ohio offers many different areas and opportunities to camp near the Forest City. Use these tips to make the most of your camping trip:
1. Pack Weather-Appropriate Gear
The Cleveland area has a wide range of weather patterns. Always check the weather forecast before leaving on your camping trip. Make sure that your camping gear, including sleeping bags and tent covers, is made to withstand expected temperatures and weather conditions.
2. Stay Safe With Your Pet
Many Cleveland-area campgrounds allow pets such as dogs. If you enjoy camping with your dog, always use a dog harness and a six-foot leash. Doing so will prevent your pet from becoming lost and avoid unnecessary conflicts with other campers and their pets.
3. Make Reservations Ahead of Time
Many campgrounds require a reservation in advance. Always reserve your campgrounds before you hit the road. A reservation guarantees that you have a place to sleep when you reach your destination.
4. Dress in Layers
Temperatures fluctuate, even in the hot summer months. Dressing in layers allows you to add or subtract clothing as the weather changes throughout the day.
5. Bring a First-Aid Kit
Accidents happen, but they don't need to ruin your trip. Pack a first-aid kit with essentials such as bandages, tweezers, a tick-remover tool, gauze, wound-cleaner, saline solution, and antibiotic ointment. If you are camping with a pet, be sure to pack a first-aid kit for them as well.
6. Use Sealable Containers or Bins to Store Food
Using sealable containers prevents bugs and other pests from getting into your food. Some campsites provide food storage lockers that will keep your containers safe from small animals.
7. Don't Forget Sunscreen and Bug Spray
A bad sunburn or itchy bug bites can put a damper on an otherwise happy camping trip. Be sure to pack these essentials in an easy-to-reach place and use them often.
8. Practice Setting Up Camp Before You Leave
Practice setting up your tent, using your camp stove, and lighting your lantern before leaving for your trip. A practice run will reduce stress and help you avoid issues at the campsite.
9. Know Your Campsite Regulations
Every campsite has different rules regarding pets, tent pegs, firewood, and quiet hours. Be sure to check the regulations before you leave so that you can be prepared during your stay.
10. Leave No Trace
Following the Center for Outdoor Ethics' Leave No Trace principles not only keeps you safe but also preserves Ohio's beautiful natural areas for many years to come. Leave No Trace provides tips for minimizing campfire impacts, respecting wildlife, and properly disposing of camp waste. Read up on the seven principles of Outdoor Ethics before your camping trip.
Bonus: Keep an Eye Out for Snakes
When camping in the woods, always keep a close eye for snakes. Although most of the snakes in Ohio are harmless, there are three poisonous snakes to watch for: the Timber Rattlesnake, Eastern Massasauga, and Northern Copperhead, though they're very, very uncommon. Learn to identify these snakes before you leave for your camping trip. And learn about the probability of encountering them in the wild so you can be relaxed in the wild.
Experience The Best of Northeast Ohio With Our Local Staff
There you have our complete Cleveland-area camping guide. We hope that our list of recommendations help you find a new spot to camp out at or enjoy a weekend hik. Get out there and enjoy some of Ohio's beautiful parks. If you have a favorite campground not listed here, contact us and we'll be happy to add it to our list of the best places to go camping near Cleveland.