2022 Nissan Pathfinder Towing Capacity
The 2022 Nissan Pathfinder is a family-friendly SUV with cargo space and engine power to perform many towing and hauling jobs. Whether you're looking to tow a boat to the lake or haul a batch of lumber for your next DIY task, the 2022 Nissan Pathfinder can accomplish it. The Pathfinder's towing capacity maxes out at 6,000 pounds and offers excellent fuel efficiency and thanks to its engine options. Review the new Pathfinder's engine options, towing capacity, and MPG ratings in this guide and contact our team to schedule a test drive to experience the Pathfinder yourself.
View Pathfinder Models Contact Us More Pathfinder Features
2022 Nissan Pathfinder Towing Specs
The 2022 Nissan Pathfinder towing capacity reaches up to 6,000 pounds when properly equipped. This gives it one of the highest towing limits in the midsize SUV class. If you're unsure what being able to tow 6,000 pounds means, it might help to compare this figure with some well-known items. A full-sized camping trailer for the family typically weighs about 5,000 pounds, so your Pathfinder could handle that easily. It could pull a fishing boat to the lake since many fishing boats weigh around 2,000 pounds or less. The Pathfinder also has plenty of power to haul a U-Haul trailer, livestock trailer, or an ATV. Thanks to a powerful V-6 engine, the Pathfinder towing can handle the most common towing needs.
2022 Nissan Pathfinder Engine Specs & MPG Ratings
The engine behind the Nissan Pathfinder's impressive towing abilities is a sturdy 3.5-liter V-6 offering 284 horsepower and 259 lb-ft of torque. A nine-speed automatic transmission delivers power to the engine and ensures smooth gear shifts. Although front-wheel drive comes standard, you can upgrade to all-wheel drive on higher trim levels. The intelligent all-wheel-drive system provides well-balanced traction and improved handling, which will be helpful if you're regularly towing.
The 2022 Nissan Pathfinder MPG ratings reach an EPA-estimated fuel efficiency of 21 mpg city and 27 mpg highway.¹ That gives you a combined gas mileage rating of 23 mpg.¹ So whether you're doing heavy lifting or just going about your day-to-day driving, you'll be able to keep your costs at the pump reasonable.
Suppose you plan to tow over rough terrain or in challenging weather conditions. In that case, the 2022 Nissan Pathfinder features seven drive modes designed to cope with various surfaces, including mud, snow, and sand. The Snow Mode keeps your vehicle in high gear to improve your control on slippery surfaces, while the Mud Mode distributes power evenly to provide you with more traction. Conserve fuel with the Eco Mode, or amp up your ride with the Sport Mode.
The Pathfinder's Towing Mode includes a downhill speed control feature that makes it easier to shift gears and stay in control while hauling an extra load at the rear. It also has a Trailer Sway Control feature that helps keep your trailer stable, whether it's being blown off course by strong winds or bumped around on an uneven road through sharp turns.
Pathfinder Towing Features & Accessories
On top of its engine specs and drive modes, the Pathfinder is equipped with several towing accessories to make the job of hitching up and hauling a trailer that much easier. The first feature of note is the Pathfinder's around-view camera system. It makes the job of hitching up a trailer painless since you can see how you need to maneuver to line everything up from the comfort of your driver's seat. This camera system also comes in handy if you're trying to navigate your Pathfinder and trailer into a tight spot.
Nissan's towing hitch receiver kit includes a custom-designed hitch for a more secure towing experience. You can also get a trailer harness, connecting trailer lighting and brakes. Trailer lighting provides additional safety for yourself and other motorists on the road. In contrast, trailer brakes are essential for helping you drive safely with the added weight of a boat or camper behind your Pathfinder.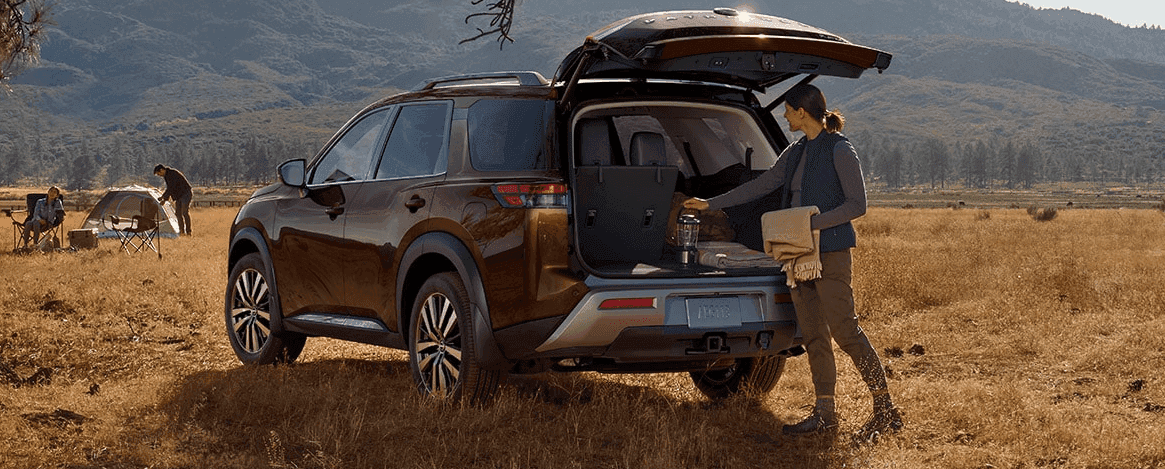 2022 Nissan Pathfinder Interior Cargo Space
Nissan designed the Pathfinder to be a versatile family cruiser, with seating for eight passengers. If you need to load your Pathfinder with groceries, camping equipment, or luggage for a vacation, the cabin has plenty of space to accommodate your needs. With all three rows of seating in use, the Pathfinder offers about 16 cubic feet of cargo capacity. For carrying more oversized items, you can reach more than 79 cubic feet of storage space by folding down the two rear rows.
Even with a whole load of cargo, you'll still have plenty of room for the entire family to ride in comfort. The first two rows of seating provide ample legroom and headroom for adult passengers. The third row can accommodate adult passengers on short trips and is ideally suited for child and teen passengers on longer drives.
The Pathfinder also comes with the option to bring a little luxury into your cabin. While cloth upholstery comes standard, you can opt for leather seats, heated front, second-row seats, and ventilated front seats in the higher trim levels.
Test Drive The 2022 Nissan Pathfinder At Our Dealership
Here at Nissan of Streetsboro, we have a team of auto experts capable of answering all your questions about the new Nissan Pathfinder and the rest of the Nissan model lineup. We also have a professional finance team ready to assist you in finalizing the terms on an auto loan that's suited to your needs. Once everything is taken care of, and you drive your Pathfinder off our lot, you can look to our dedicated service team to provide hassle-free maintenance and any repairs you require to lengthen the life of your vehicle.
To learn more or start the buying process, contact our dealership today. We have an extensive inventory of the complete lineup of Nissan vehicles in our showroom, from sedans to compact SUVs to trucks. Check out our online inventory to find your dream ride.
¹ 2021 EPA-Fuel Economy Estimates. Actual mileage may vary with driving conditions. Use for comparison only.