Best Sushi in Cleveland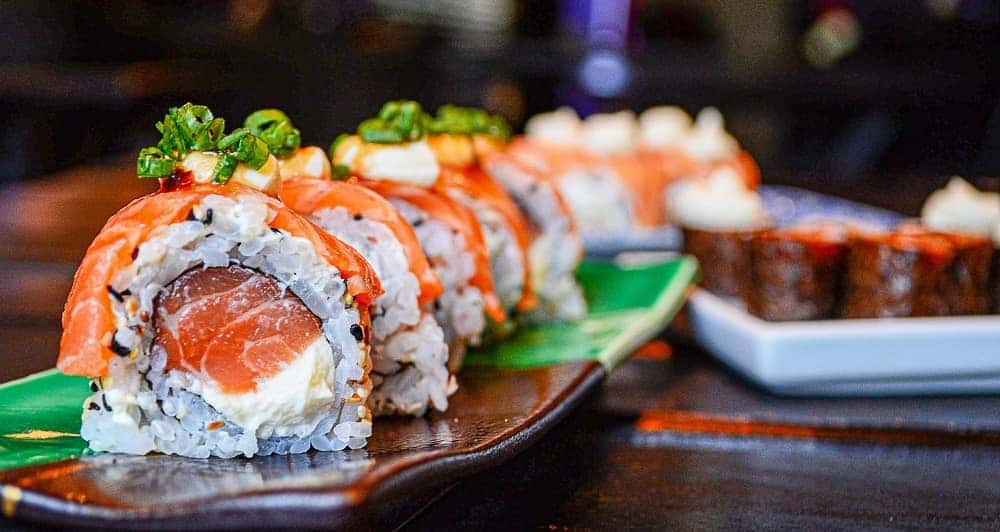 If you're craving sushi, you'll be delighted to know that the Cleveland area offers a wide range of options that can satisfy nearly any craving. From fast and casual dining to some of the most gourmet and acclaimed spots in the city, Cleveland's restaurant scene has options to suit any type of evening.
We've asked our staff for their recommendations on the best places to get sushi and their favorite Japanese restaurants in Cleveland and beyond. We tallied their votes and have come up with our list of "Uncle's Nate's Top Picks" for the best sushi in Cleveland. If we missed your favorite, reach out and let us know so we can give it a try and add your favorite restaurant to our list.
Sushi 86
Address: 530 Euclid Ave, Suite 32, Cleveland
Sushi 86 is a great weekday go-to for delicious sushi, open Monday through Friday from 10:00 a.m. to 7:00 p.m. Large rolls feature eight pieces to the roll. The signature 86 Roll features yellowtail, sushi, avocado, cucumber, tobiko, and tamago. Enjoy a fiery meal with the spicy Dynamite Roll with tuna, salmon, avocado, and hot sauce. The Tempura Roll has a kick as well with the inclusion of spicy mayo and hot sauce to complement the tempura shrimp, lettuce, and tobiko.
The small rolls have six pieces each. You can enjoy options like the Crab Salad Roll, classic California Roll, Smoked Salmon and Avocado Roll, Tuna Roll, and more. Complete your meal with a delicious bubble tea. Sushi 86 makes its bubble teas with fresh fruit puree, green tea, and agave sweetener. If you have room for dessert, you'll find a dozen varieties of mochi on the menu as well.
Parallax
Address: 2179 W 11th Street, Cleveland
At Parallax in Cleveland, you'll enjoy a distinctive flavor that the restaurant describes as French technique and Asian flourish. The flagship restaurant of Zack Brunell, this fine dining establishment is perfectly suited to a romantic night out or a special evening with friends. Though you're not confined to sushi here by any means, you'll find enough options in this area to make a full meal.
The sushi menu includes sashimi, nigiri, hosomaki, and hand rolls. You can also order regular sushi rolls from a full selection that includes all your favorites, like the Spicy Tuna Roll, Rainbow Roll, Crab California Roll, and Spider Roll.
Parallax serves four specialty rolls that offer a distinctive twist. The Lobster Roll is a cleverly-named sushi concoction with lobster, avocado, watercress, cucumber, and spicy mayo. The Steak Roll features cream cheese, fried onion, rare steak, and watercress. If you're not a meat-eater, try the Vegetable Roll with avocado, jalapeno, fried onion, field greens, kanpyo, and watercress.
Hanabi Sushi
Address: 1313 W 6th Street, Cleveland
Hanabi Sushi focuses on delivering decadent, artfully crafted sushi rolls in a wide variety of flavors. You'll find vegetable rolls featuring sweet potato tempura, avocado and cucumber, asparagus, plum and cucumber, and other options. The Maki rolls are available in a dozen options including spicy salmon, yellowtail scallion, shrimp tempura, and spicy white tuna.
The House Design Special selection serves up some intriguing options. Enjoy a sweet treat with the Mango Roll featuring tuna and avocado with mango and mango sauce on top. The Black Dragon Roll has avocado, cucumber, crab, eel, and tobiko. The Las Vegas Roll is packed with flavor and includes deep-fried eel, avocado, kani, cream cheese, spicy mayo, and eel sauce.
Ginko Restaurant
Address: 2247 Professor Ave B, Cleveland
Ginko serves gorgeous sushi rolls in a sleek environment that's ideal for a special night on the town. The restaurant is open Tuesday through Saturday from 4:00 p.m. to 10:00 p.m. If you simply can't decide what to order, go for the Omakase Tasting, a five-course chef's tasting menu that delivers a little of everything. The Otsukuri Omakase is the chef's selection of the day, which is also guaranteed to introduce you to something incredible.
If you prefer to make your own selection, you'll find no shortage of options. You can order classics like the Jumbo Shrimp Tempura, Spicy Tuna, or California "Sunshine" rolls. For something different, check out the specialty menu. The Eye of the Tiger features burdock root, scallop, and shiitake. The Dante Roll has tuna, manachi, salmon, tobiko, and avocado. Try the Nippon for a flavorful roll filled with plum, squid, shiso, cucumber, and yamagobo. This menu has something to suit any preference in the world of sushi.
Kenko Sushi + Teriyaki
Address: 11312 Euclid Ave, Cleveland
At Kenko, you can enjoy sushi made to order right at the counter. There's no better way to get a sushi roll made to your preferences. Start with a traditional seaweed wrap or an upgraded soy wrap and pick white or brown rice. Next, you can choose your protein, two veggies, two sauces, and a topping.
If you prefer something that's already tested and tried, the selection of specialty rolls includes several outstanding choices. The Ohio Roll is a local favorite with shrimp, crab, avocado, cucumber, asparagus, and wasabi mayo. The Little Delicious Roll is just as the name suggests, with spicy tuna, cream cheese, cucumber, and avocado. The whole roll is lightly fried and topped with eel sauce and spicy mayo.
Kumo Japanese Seafood Buffet
Address: 1975 Snow Road, Cleveland
If you're in the mood for a buffet where you can get all the sushi you can eat, you'll find a delightful selection of dishes at Kumo Japanese Seafood Buffet. The sushi menu includes the California Roll, Philadelphia Roll, Avocado Roll, Seaweed Roll, Spicy Crabmeat Roll, Crazy Crabmeat Roll, and Dragon Roll. You can also enjoy specialty sushi like the Kumo Roll with crabmeat, soy paper, spicy mayo, and eel sauce.
Kumo also serves a full buffet of other Cantonese, Hunan, and Szechuan dishes. Enjoy options like Moo Shu Chicken, Chinese Steak, Szechuan Shrimp, and more. If you'd like to take the delights of the buffet home, Kumo also offers buffet boxes to go.
Experience The Best of Ohio with Our Team's Recommendations
Did we include your favorite sushi restaurant on the list? If we missed a great spot, let us know so we can always point our customers in the right direction. With so many choices, the hardest part of getting sushi in Cleveland is simply deciding where to go. Contact our team at Nissan of Streetsboro with your recommendations and if you go to any of the restaurants on our list, tell 'em "Uncle Nate sent ya!"