2021 Nissan Rogue Towing Capacity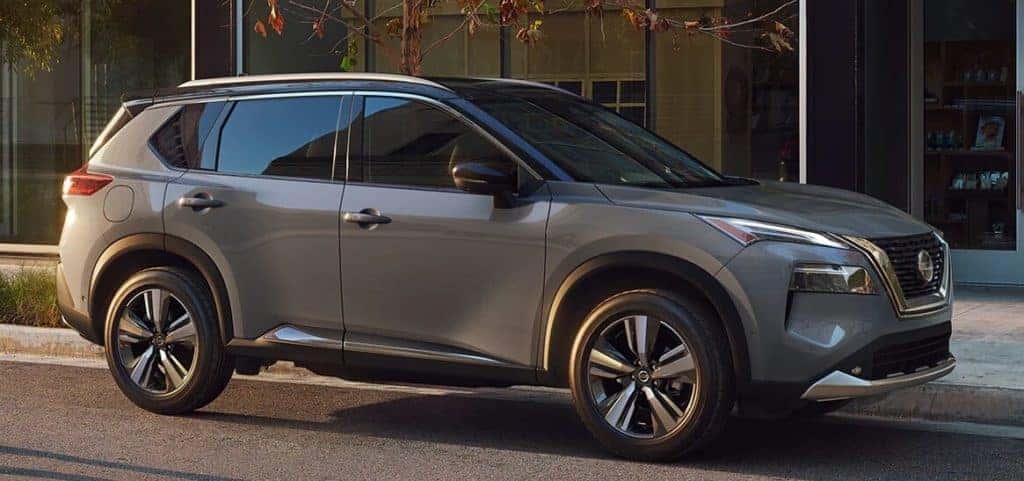 The 2021 Nissan Rogue is a leading option if you're shopping for a new SUV in Ohio. With the reliability customers expect from the Nissan lineup, and providing excellent comfort, performance, and entertainment features, it's no surprise that buyers love their Nissan Rogue. When considering which SUV to buy, it's important to consider the full range of features available. If you're looking for an SUV that is capable of towing or carrying cargo, consider the towing and payload capacities, as well as the performance specs and other towing related amenities on the 2021 Nissan Rogue. This guide can answer all your 2021 Nissan Rogue towing and carrying capacity questions. To schedule a test drive in a 2021 Nissan Rogue, contact our team today.
2021 Nissan Rogue Towing Capacity Specs
The 2021 Nissan Rogue towing capacity can handle up to 1,350 pounds of towing weight. The Nissan Rogue can handle transporting small vehicles, like an ATV or a personal watercraft, as well as hooking up a trailer when you need additional cargo space when preparing for a trip. Just connect your trailer to your Rogue and hit the road. To learn how to properly equip your towing hitch, contact our service technicians and we'll be happy to walk you through the process.
Nissan Rogue Payload Capacity
While the ability to hook up a trailer and tow a load is a useful feature for the 2021 Nissan Rogue, sometimes all you need is the ability to load your Rogue's interior up before you head out for a drive. The 2021 Nissan Rogue has a payload capacity of up to 1,125 pounds. That provides you with ample opportunity to fill up your cargo space, whether you're heading out for a weekend in the woods or loading the SUV for a move.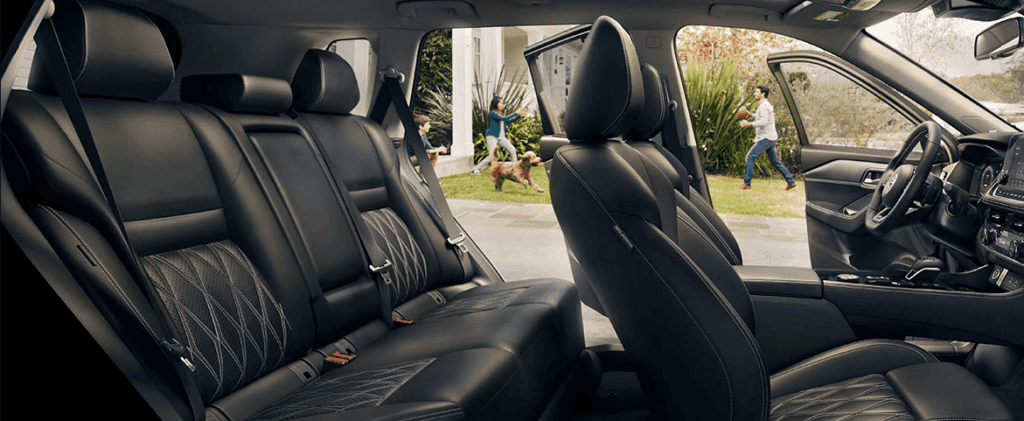 Nissan Rogue Cargo & Seating Capacity
When loading up your SUV, it's not just about how much weight you can load, but how much space you have available in the Nissan Rogue interior. When it comes to SUVs, there are few competitors that can compare to the 2021 Nissan Rogue. With seating allowing up to a full load of five passengers, the Rogue includes 36.5 cubic feet of storage space. This provides ample room for you and your passengers to load up any of the essentials you need for your drive.
When you need a little more storage space, simply fold down the back row of seating. With the rear seats down, storage in the 2021 Nissan Rogue more than doubles to 74.1 cubic feet of space. This offers storage that many other compact SUVs simply cannot match. There's no shortage of cargo capacity in your Rogue when you fold the seats down for maximum storage.
2021 Nissan Rogue Engine Specs
The 2021 Nissan Rogue towing and payload capacities are dictated by the engine it has under the hood. The Rogue comes with a 2.5 liter DOHC 4-cylinder engine. It's capable of producing 181 horsepower, and delivering 181 pound-feet of torque to the Rogue's drivetrain.
When choosing your 2021 Nissan Rogue, there are two options for drivetrains available. The Rogue comes standard with a front wheel option that provides an EPA-estimated 27 miles per gallon in the city and 35 miles per gallon on the highway. If you prioritize the ability to manage in unfavorable conditions, you can opt for a Rogue with an all-wheel drive system. All wheel drive provides increased grip and control even when the road gets slick or you leave it altogether, while still getting 26 miles per gallon in the city and 33 miles per gallon on the highway.*
Towing Safety Features and Driving Tips
When towing a trailer or vehicle behind your 2021 Nissan Rogue, it's important to know that you're looking out for you and your passengers' safety as well. The good news is the Rogue comes with many excellent safety features to help ensure you can drive comfortably and responsibly when towing, including:
Blind spot monitoring: When trailing a vehicle, you increase the number of possible blind spots and make it even more important to be aware of other cars around you. Blind spot monitoring uses sensors to alert you when a car pulls up alongside you that you can't see, to help you avoid dangerous lane changes.
Driver alertness warnings: Although it's always important to be alert at the wheel, it is particularly so when towing a trailer or vehicle, as it can reduce the maneuverability of your vehicle. Driver alertness warnings monitor your performance and alert you when signs of distraction or fatigue appear.
Lane departure warning: When towing a load behind your Nissan Rogue, it's important to avoid sharp or sudden movements, such as needing to turn quickly back into your lane if you begin to drift out of it. With lane departure warnings, your Rogue provides an alert when you near a neighboring lane to prevent the need for rapid reactions.
Intelligent forward collision warning: Towing behind a vehicle increases the weight you are driving, and affects your ability to stop quickly. With intelligent forward collision warnings, your Rogue can alert you when you are following a car too closely. This helps you maintain a safe distance in order to provide ample room to stop or slow down when needed.
Rear cross traffic alert: When you hook a trailer up to the back of your 2021 Nissan Rogue, it can reduce your visibility behind you by obstructing your vision. Rear cross traffic alert uses sensors to monitor the space behind your vehicle for approaching people, cars, or other obstacles. This helps you safely reverse your Rogue while towing and avoid collisions.
Test Drive the 2021 Nissan Rogue at Nissan of Streetsboro
If you're interested in a 2021 Nissan Rogue and want to see if it's the right SUV for you, the expert staff at Nissan of Streetsboro can help you see what the Rogue has to offer. You can contact us online, or come out to see us in person. Our professional staff will point you in the direction of the Nissan that suits your needs, then take you out for a test drive to see how it feels. If you like what you find, we can help get you behind the wheel of your next SUV today.
*Based on 2020 EPA estimates, for comparison uses only. Actual mileage may vary by driving conditions.